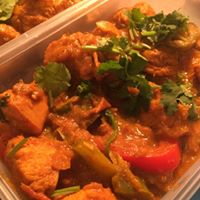 "…We loved the tikka masala and I have just been to the store in Motspur Park to stock up on some of the spices that I was missing. I thought the course was very professional and I particularly appreciated all the tips you gave us, which I will take on board. I will certainly be booking another session in the future."
Carole | New Malden
---
"My girlfriends and I did a group class. The set up was great, we each had our own work station and everything was prepped ready to go. Even the dishes were whipped away before we noticed.
It was a giggle filled few hours which resulted in a delicious takeaway curry for each of us (even enough for our husbands!).
We'll all be attempting the chicken korma, rice and pakoras recipes at home. Hopefully without Shermin's nurturing eye we'll get the same delicious result."
Danielle | Raynes Park
---
"The fact that there were only two of us for each lesson in such a lovely venue and with a great tutor this was a great way of learning how to cook Indian food.
The fact that we just needed to turn up and the ingredients were ready for us together with the instructions made the lessons easy and very enjoyable. Having to take ingredients along to a class is always a chore particularly for a cuisine where it is not easy to get some of the ingredients and when there are often so many for each recipe. Being able to go home with nicely packed food enough for at least two people was excellent – it was definitely curry night in our household after each lesson."
Theresa | Motspur Park
---
"We haven't ordered a single take away at home in the last 5 months!!!
My wife saw the advert on SW19 Mum's and showed it to me and 10 minutes later I was booked in! I have always liked Indian food and so the chance to be taught how to make it for myself was too good to pass up. Recipe books are invariably too complicated (you have to make various pastes) and often produce results which are just "ok". You don't get to learn the true method of the recipe either and why things are done the way there are. It's too mechanical.
After the first couple of lessons I couldn't believe the flavours of the food – as good, if not better than from a restaurant. The course fees are cheaper than if you ordered a take away every week plus you get to learn a life skill. Shermin is so easy to cook with.
Having done the basic and the advanced courses I have arranged extra lessons with Shermin. I find that I cook with a degree of confidence now that I never had before. I can also begin to sense where I have gone wrong if things don't taste quite right when I cook on my own and I am more understanding of the flavours I am cooking with."
Keith | Wimbledon Park
---
"Great Indian cooking class for beginners!
Not as difficult as I thought it would be. Get to learn easy recipe yet they equal to the authentic tastes you get at restaurants. Shermin has everything prepared and organised (apron, food containers, bag to carry home the cooking you made), you hardly have to do anything but chop and fry and listen to her instructions!
Very informative indeed.
Her cozy and tidy kitchen (not to mention her lovely personality!) gives you a feeling of warmth and welcoming.Also a nice place to socialise with other participants. Enjoyed every minute I was there."
Takako | Wimbledon
---
"Shermin is awesome. She guides you through every stage and explains every ingredient….It's a great way to learn how to cook great food."
Martyn | Wimbledon